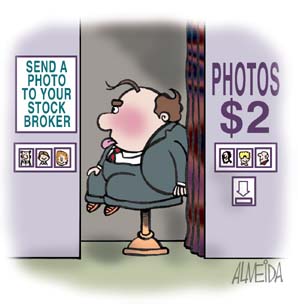 A young stockbroker decided to take a day off and visit some of his professors in his old school.
When he made his way into the entrance he noticed a dog was attacking a small child. He quickly grabbed the dog and throttled it with his two hands.
The next day the local newspaper reported the story with the headline, "Valiant student saves boy from ferocious dog." The stockbroker called the editor and strongly suggested that a correction be issued and that the paper will tell the readers he was a successful Wall Street stockbroker and not a student.
The next day the newspaper issued a correction and the headline read, "Pompous stockbroker kills school mascot."
A young man asked an old rich man how he made his money.
The old guy fingered his worsted wool vest and said, "Well, son, it was 1932. The depth of the Great Depression. I was down to my last nickel! I invested that nickel in an apple. I spent the entire day polishing the apple and, at the end of the day, I sold the apple for ten cents.
The next morning, I invested those ten cents in two apples. I spent the entire day polishing them and sold them at 5:00 pm for 20 cents. I continued this system for a month, by the end of which I'd accumulated a fortune of $1.37."
"And that's how you built an empire?" the boy asked. "Heavens, no!" the man replied. "Then my wife"s father died and left us two million dollars."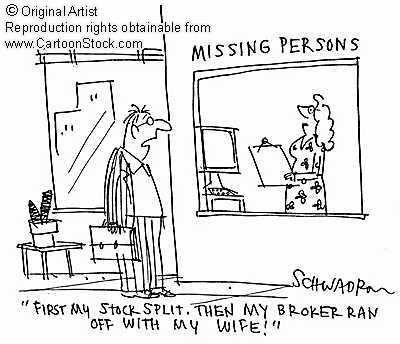 A very successful stockbroker parked his brand-new Mercedes in front of his office, ready to show it off to his colleagues.
As he got out, a truck passed too close and tore off the door on the driver's side.
The stockbroker immediately grabbed his cell phone, dialed 911, and within minutes a policeman pulled up. Before the officer had a chance to ask any questions, the stockbroker started screaming hysterically.
His Mercedes, which he had just picked up the day before, was now completely ruined. When the stockbroker finally wound down from his ranting and raving, the officer shook his head in disgust and disbelief.
"I can not believe how materialistic you stock brokers are," the cop said. "You are so focused on your possessions that you don't notice anything else."
"How can you say such a thing?" asked the stockbroker.
The cop replied, "Don't you know that your left arm is missing from the elbow down? It must have been torn off when the truck hit you." "My God!" screamed the stockbroker. "My Rolex!"
If bankers can count, how come they always have ten windows and two tellers?
Momentum Investing: The fine art of buying high and selling low.
Value Investing: The art of buying low and selling lower.