An Initial Public Offering – IPO is the first sale of a corporation's common shares to public investors.
The main purpose of an IPO is to raise capital for the corporation.
While IPOs are effective at raising capital, they also impose heavy regulatory compliance and reporting requirements.
The term only refers to the first public issuance of a company's shares; any later public issuance of shares is referred to as a Secondary Market Offering.
A shareholder selling its existing (rather than shares newly issued to raise capital) shares to public on the Primary Market is an Offer for Sale.
IPOs generally involve one or more investment banks as "underwriters."
The company offering its shares, called the "issuer," enters a contract with a lead underwriter to sell its shares to the public.
The underwriter then approaches investors with offers to sell these shares.
A large IPO is usually underwritten by a "syndicate" of investment banks led by one or more major investment banks (lead underwriter).
Upon selling the shares, the underwriters keep a commission based on a percentage of the value of the shares sold.
Usually, the lead underwriters, i.e. the underwriters selling the largest proportions of the IPO, take the highest commissions — up to 8% in some cases.
Multinational IPOs may have as many as three syndicates to deal with differing legal requirements in both the issuer's domestic market and other regions.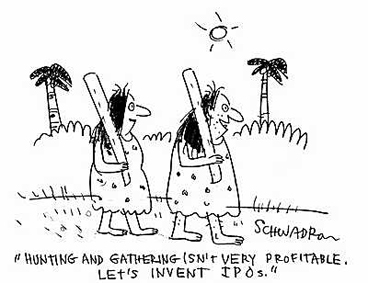 An issuer based in the E.U. may be represented by the main selling syndicate in its domestic market, Europe, in addition to separate syndicates or selling groups for US/Canada and for Asia.
Usually, the lead underwriter in the main selling group is also the lead bank in the other selling groups.
Because of the wide array of legal requirements, IPOs will also involve one or more law firms with major practices in securities law.
Usually, the offering will include the issuance of new shares, intended to raise new capital, as well the secondary sale of existing shares.
However, certain regulatory restrictions and restrictions imposed by the lead underwriter are often placed on the sale of existing shares.
Public offerings are primarily sold to institutional investors, but some shares are also allocated to the underwriters' retail investors.
A broker selling shares of a public offering to his clients is paid through a sales credit instead of a commission.
The client pays no commission to purchase the shares of a public offering, the purchase price simply includes the built in sales credit.